Weaving Joy is a 501(c)3 not for profit organization that focuses on spreading joy through random acts of kindness in the form of art.
The Story
Weaving Joy began around 2009 when inspiration lit the heart of a local artist named Therese Fisher.
The idea was simply to give back to the community and help facilitate that special spark that cannot be named, but can so often change people's lives.

In 2012, she began and successfully completed the process of setting up a formal 501(c)(3) non-profit organization.
The organization continues to create and plant seeds of joy for the throughout Napa and the world along with the generous donations of others.
Here are some stories that recipients have shared with us.
February 26, 2015, Ballarat, CA
"I discovered a beautiful woven platter in the desert at the ghost town of Ballarat, CA. It was on the doorstep of the Jail/Morgue. Two days before I had attended a memorial celebration for a dear soul sister and was still feeling the tones of grief. Finding the weaving was indeed a random act of kindness that lifted my heart. Thank you!"
March 15, 2014, Woodside, CA
"Thank you so much, mystery artist! I found a lovely little bark basket at Filoli today. My 97-year-old grandmother just passed away two weeks ago and I had planned to take her to Filoli again--I was thinking of her when I found the basket hanging on the gate with its message of joy."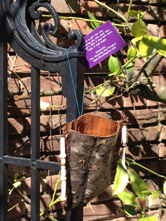 December 2011, Napa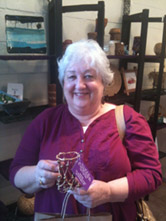 "My gift" today has already brought joy into my day! Your energy and the metal basket drew me to your space today at the Expo.
I did not come to shop, but while there of course could not resist walking around to all of the exhibits. There were many lovely things to admire, but when I got to your baskets I could not seem to move myself away and your little metal basket just kept calling me . . . . .I had decided to buy it, but it had no price . . . . . when you told me that the message on it was literal - "take it and enjoy" - I was thrilled - I felt that it was there just for me today. Along the way, one of the lessons that I have learned is how to accept what is offered to me and to know that I don't have to know the reason that it is offered - sometimes when the time is right the answer will be given to me, and if I never know that is okay too. I had the strongest urge to tell you about my understanding that "vessel's" hold "things", but not necessarily physical things, i.e. water, flowers, etc. . . .my metal basket will remind me of all that is stored inside the basket that I can draw from . . . . . . . . Thank you, Joan"
December 2010, San Rafael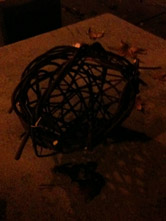 "My husband and I were walking down fourth street in San Rafael,
after a nice warming snack at the Mayflower Pub. We were enjoying a break
from the hustle and bustle of our young kids and getting to talk to each
other quietly over a pint seemed like the highlight of our evening. That
was of course until we were walking and Jaime reached out and picked up
a nice woven basket with a cute little tag that said " this is a gift
for you". We smiled widely and turned to each other and said " really?"
The basket was an intricate pattern of hand laced twigs..an almost impossible
feat of craftsmanship..it looked like mother nature herself had reached out
to us with a special message. We stopped in for a Pizza at Amicis, and
couldn't help but tell everyone what we had found and what the message was.
Everyone was smiling and happy because of the message that had been shared.
The basket now sits on our table as a reminder of goodness and simple, natural beauty.

Sincerely, Julie Chambers"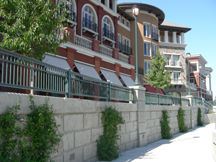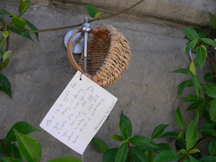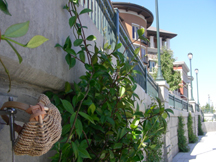 Images ©2009-2016 Therese Fisher